[ad_1]

To ensure you receive every issue and get lots of extras sign up for our new £9.99 monthly digital subscription package (cancel anytime). See terms below.
You can also upgrade to our Premium Subscription and receive the HD print edition of the magazine. Go to 'My Account' when you are signed in for more details.
A digital package gets you unlimited access to the magazine and website plus our valuable 5 Year+ Magazine library. Enjoy dozens of case studies, business-building articles and in-depth features on key topics for Financial Planners, Paraplanners and Wealth Managers.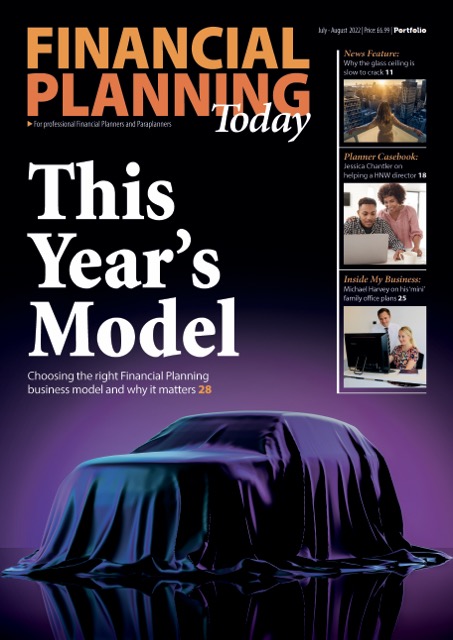 Highlights in the latest issue include:
This Year's Model: Finding the right model for your Financial Planning firm 

The Glass Ceiling: is breaking through the glass ceiling getting harder for women?

HNW Clients: How to overcome resistance from HMW clients to working with advisers by Michael Stimpson of Saltus 

Plus Planner Casebook with Jessica Chantler of Quilter Financial Adviser – who helps a female entrepreneur; The Client Hunter with Barra Gorman of Foursquare Financial Management in Northern Ireland and Michael Harvey of Charters Wealth on his mini-family office plans

DFM Update and DFM listings with Fraser Donaldson of Defaqto

Plus: A round up of recent key Financial Planning stories, job moves, news from the professional bodies, Investment expert comment from Quilter Cheviot and Fidelity and lots more.
• Important: only registered readers of Financial Planning Today website can view the full magazine (non-registered readers are restricted to a preview) so please register now for free to avoid missing out and upgrade to a package to get more: www.financialplanningtoday.co.uk. 
Financial Planning Today magazine is the only UK publication exclusively for Financial Planners and Paraplanners and is available in digital and print editions on subscription. For more details of subscription options click on 'My Account' on the website homepage (once you've registered for Financial Planning Today website – registering is free): 
> Subscribe now for £9.99 a month (cancel at anytime) or save with a 12 month subscription. Terms Apply.

---
Support email: This email address is being protected from spambots. You need JavaScript enabled to view it.


[ad_2]