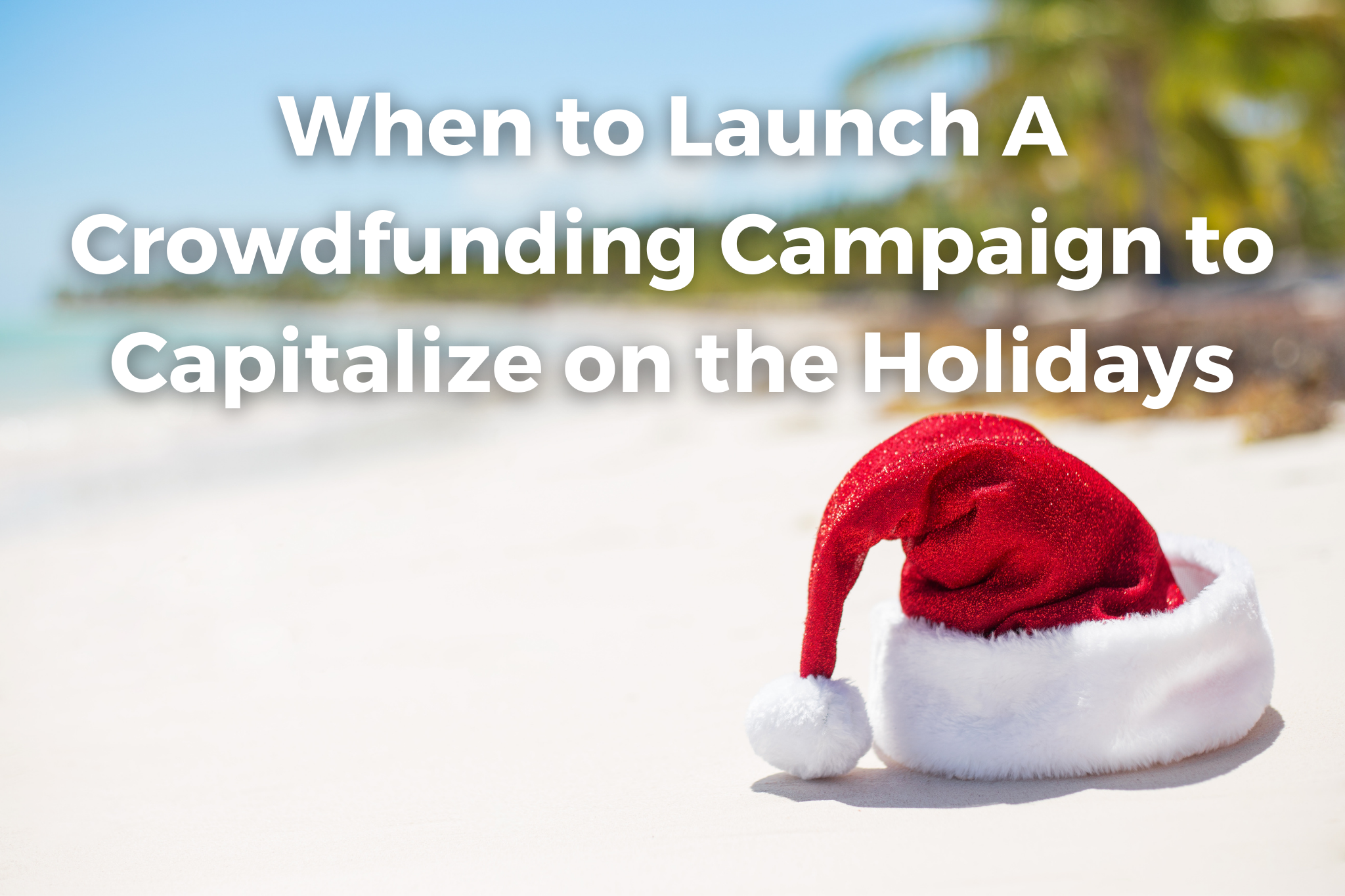 [ad_1]

The temperatures are starting to climb as we approach Memorial Day, the unofficial start to summer in the United States, but it's not too early to begin preparing for the holiday season. For crowdfunding creators, preparing and launching campaigns in the next few weeks will ensure you can market "delivers in time for the holidays" on your campaign.
Do Crowdfunding Campaigns Need to Launch in the Summer to Deliver for the Holidays?
The short answer: yes. Campaigns launching in May often have delivery dates estimated for November. Most campaigns plan a six-month timeline between the end of the campaign and the delivery of rewards. If you want to market your product as an ideal gift for the holidays, you want to make sure to hit that delivery window.
That means launching early.
But is the summer too early? No. Crowdfunding enthusiasts understand that there's a delay between the end of a campaign and when a product is shipped. They're also always on the lookout for the coolest new products and want to be the first to own them. By launching in the summer, and marketing the delivery window, you give enthusiasts the chance to support your project and purchase additional product to give to family and friends.
Do these 3 things NOW to launch your campaign quickly
So you're convinced that you need to get going…great! The good news is that if you already have a working prototype, the rest is relatively easy to get moving on quickly. You'll need to gather creative assets for your page, and then build it.
Photo and Video Assets
Visual assets are one of the most important things needed for your campaign. How will you convince backers to support you if they can't SEE your product? If you're creating these assets yourself, be sure to gather standalone product shots on a white background in addition to a variety of lifestyle images. It's best to shoot most of your imagery in landscape orientation, but a variety of shots can be used in advertising, and on the page itself.
With the video, you'll want to clearly describe your product and show it working. Hook potential backers early, and keep the video as brief as possible. This is your chance to connect with backers and convince them to support your project.
Creative Messaging
Do you have a brand guide? Think about the words you want to use to describe your product. Unique should not be one of them. There are very few truly unique ideas, so find ways to describe how your product innovates on ideas backers are familiar with. What taglines will stick with people if they're taking time to think about whether or not to back your campaign?
Understanding which words you don't want to use is important, too. Think about phrasing that might confuse backers, and seek clarity.
Build Your Page
Once you know what you want to say and have the images to help you say it, it's time to build the page. Here, you'll tell a story that will help backers see how your product will help them live better lives.
Create graphics, charts and GIFs to show the features of your product and how it can be used. Make everything on the page easily digestible.
Can Crowdfunding Compete with Holiday Ecommerce?
If you're worried about launching a campaign and marketing your delivery in time for the holidays, don't fret. Crowdfunding customers get excited if they learn they'll receive your product in time for the holidays.
In many ways, you'll be ahead of the ecommerce giants, Black Friday, and the holiday rush. At that time, you'll likely have shifted to ecommerce and may have additional inventory on hand to use more traditionally.
Launching in the Summer Matters
If you Launch in the Fall, you're too late. We've seen too many clients launch campaigns in September or October and promise delivery for the holiday season only to disappoint backers. Launching in the summer ensures you'll have transitioned into post-campaign plans or ecommerce by the Fall, and can more easily leverage the delivery of your rewards, too. If you're hoping to launch, but need help with the details, we'd love to partner with you.
[ad_2]